New Year's Eve
Michael's on the Hill
New Years Eve Dinner
2023

5:30pm seating: $150 per person
9pm seating: $170 per person
The 9pm seating features the music of the Tiffany Pfeiffer Trio
in collaboration with Firefly Productions.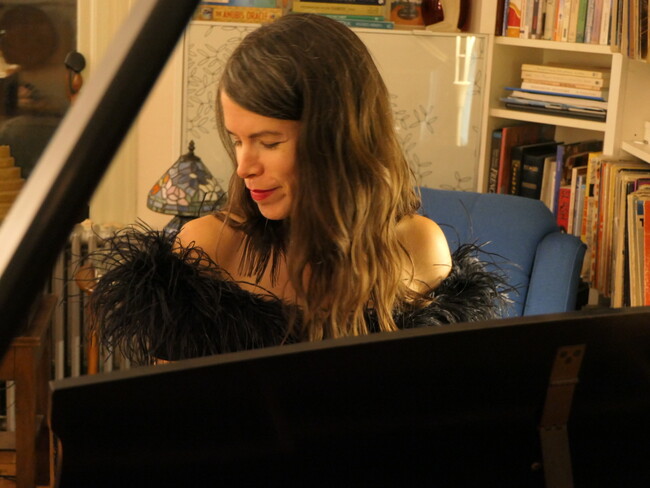 Wine pairings available - tax and gratuity additional
*9pm seating includes hors d'oeuvres, a Prosecco toast, cookies, truffles, live music & favors
MENU
Chef's Taste (5:30pm seating)
Potato Vichyssoise with Ramp Oil

Selection of Hors d'oeuvres (9pm seating)
Potato Vichyssoise with Ramp Oil
Deviled Eggs with Crispy Shallots
Spice Roasted Venison Biscuit with Fennel Raisin Jam
First Course
Cress with Bayley Hazen Blue, Poached Pear, Marcona Almonds & Tarragon Dressing

Second Course
Duck & Fennel Confit Tartine with Fennel & Blood Orange Salad & Parsley Gremolata
or
Pan Roasted Halibut with Cauliflower Purée - Rainbow Carrots - Capers

Intermezzo
Grapefruit Champagne Sorbet
Entrée
Pasture Raised Beef Tenderloin - Roasted Bone Marrow - Gratin Potatoes - Shallots - Asparagus - Black Truffle
-available without marrow-
or
Maine Lobster Risotto - Butternut Squash - Creamed Leeks - Sage - Pancetta
-available without pancetta-
or
Wild Mushroom Gnocchi - Shaved Black Truffles - Chive Emulsion - Garlic Chips

Dessert
Fair Trade Chocolate Truffle Torte - Vermont Strawberry Ice Cream - Strawberry Sauce
or
Lemon Meringue "Pie" - Tahitian Vanilla Cherry Compote
-

Organic Vermont Artisan Coffee or Tea Selections
Cookies
-
(9pm seating)
Prosecco Toast, Cookies & Truffles
Favors
(Old Times Non Alcoholic Sparkling Cider is also available)

Featured Wines
Stag's Leap "Artemis" Cabernet Stag's Leap $168
Kistler "Les Noisitiers" Chardonnay Sonoma Coast $160
Billecart-Salmon Brut Rosé NV $188

We are happy to accommodate vegetarians, vegans and special dietary needs.
Please inform us in advance so we may have time to prepare
an unforgettable meal with your special requirements


Children's Menu
* full adult menu price will be charged for occupied seats due to limited space
Complete Menu - $140 (5:30 Seating); $165 (9pm Seating)
Chef's Taste
Deviled Eggs, Potato Vichyssoise & Mini Buttermilk Biscuit

First Course
Local Cheddar Fritters
Second Course
Vegetables with Dip

Intermezzo
Cranberry-Orange Sorbet

Entrée
Choice of:
Chicken Fingers with French Fries
or
Buttered Noodles with Parmesan Cheese
or
Children's Beef Tenderloin with French Fries or Buttered Noodles

Dessert
Hot Fudge Sundae
- Strawberry or Vanilla Ice Cream, Fudge & Strawberry Sauce, Whipped Cream & Sprinkles -
-
Cookies & Party Favors
-

All Times Sparking Cider - Non Alcoholic Beverages
$75 deposit per person to reserve.
Groups up to 5 people: 72-hour cancellation policy.
Groups 6+: 5-day cancellation policy
Takeout is not available on NYE, Christmas Eve or Christmas Day
72 hour advance notice recommended for take out orders during Christmas week.